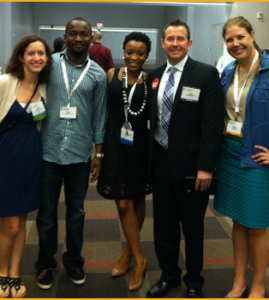 The mission of the DCAFP Foundation, as the philanthropic arm of the DCAFP, is to advance the values of family medicine by promoting humanitarian, educational, and scientific initiatives that improve the health of all people. The DCAFP Foundation fulfills its mission by identifying programs, projects and community partnerships that advance the work of the DCAFP. To this end, DCAFP Foundation activities include providing scholarships for student and resident attendance at national conferences and supporting CME activities for local physicians.
We invite you to help support local primary care education by becoming a DCAFP Foundation sponsor. Sponsors will be acknowledged in the annual meeting program, DCAFP newsletter and website.
By participating as a sponsor, your organization will benefit from extended exposure through promotional efforts directed toward supporters of DCAFP. There are several DCAFP Foundation recognition levels:
Founders Club, $2500+
President's Club, $1000-$2499
Patrons, $500-$999
Benefactors, $250-$499
Sponsors, $100-$249
Friends, $1-$99
Donate by Mail
If you would like to support our local CME events, or student and resident participation in national conferences, please donate to the DCAFP Foundation by sending a check or money order in the amount of your choosing to:
DCAFP Foundation
c/o Finie Richardson
520 W Street, NW, Suite 2400
Washington DC, 20059
Donate Online
You can support our local CME events, or student and resident participation in national conferences by clicking on the link below to  donate via PayPal or Credit Card.
DCAFP Foundation is a 509(a)3 organization with tax ID 52-1866514. Sponsorships are tax-deductible and should be made payable to DCAFP Foundation. We're counting on your support, and will be happy to answer any questions you may have. Thank you in advance for your willingness to support the efforts of DCAFP and DCAFP Foundation to make a difference in our community.
For more information about sponsoring a dinner CME meeting of the DCAFP or for information about other opportunities to partner with the DCAFP, please contact chapter executive Finie Richardson at 202-806-9849 or dcafp@aol.com.