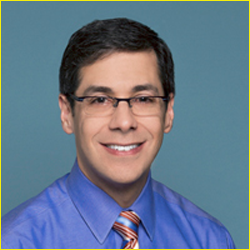 Joseph Territo, MD
Dr. Joseph F. Territo was named Associate Medical Director of Quality for the Mid-Atlantic Permanente Medical Group (MAPMG) in 2012. MAPMG is the independent medical group that employs the physicians who care for Kaiser Permanente members. Dr. Territo leads the region's clinical quality initiatives aimed at improving population health outcomes and publicly reported health plan quality programs, including the National Committee for Quality Assurance's (NCQA) Healthcare Effectiveness Data Information Set (HEDIS) and the Centers for Medicare and Medicaid Services' (CMS) 5-star Medicare program. He is also now accountable for documentation and coding initiatives. This work includes helping physicians document more precisely and completely to raise clinical quality and provide accurate assessment of population-risk burden.
Dr. Territo's strategic vision and systematic approach to quality improvement has delivered rapid performance results. Under his leadership, Kaiser Permanente of the Mid-Atlantic States (KPMAS) saw the number of quality measures wherein its rate was among the 10 best in the nation skyrocket from 14 (HEDIS 2012) to 38 (HEDIS 2015). The organization was one of only two health plans in the nation to earn a 5-out-of-5 rating for both its Commercial and Medicare plans by NCQA in its 2015–2016 Health Insurance Plan Ratings. Dr. Territo's work in quality has also helped KPMAS be one of fewer than a dozen health plans in the nation to sustain a CMS 5-star Medicare rating for several years.
The process and outcome improvements realized under Dr. Territo's leadership resulted in the highest level of recognition for all 29 MAPMG primary care practice locations in the region by NCQA's Patient-Centered Medical Home (PCMH) program, while more than 150 Permanente physicians qualified for NCQA's Diabetes Recognition Program. Through his innovative outreach programs, application of technology and closely monitored population-health reporting tools, Dr. Territo's team (in partnership with frontline physicians) drastically reduced disparities in care by race and ethnicity for important quality measures like cancer screenings, blood pressure control and diabetes management, while fostering a culture of clinical accountability and excellence.
Prior to his current role, Dr. Territo was Assistant Physician-in-Chief of Quality for Kaiser Permanente's Northern Virginia area. Before joining MAPMG, he served as a Clinical Assistant Professor in pediatric ophthalmology at Georgetown University in Washington, D.C. Dr. Territo has completed patient-safety officer training at the Institute for Healthcare Improvement, Executive Leadership Training at Harvard University Business School, and holds Six Sigma Green Belt certification.
Board certified in ophthalmology, Dr. Territo received both his bachelor's and doctor of medicine degrees from Georgetown University. He completed an ophthalmology residency at Cook County Hospital in Chicago and a pediatric ophthalmology fellowship at Georgetown University. He has a special clinical interest in ocular motility in children. In 2014, Dr. Territo was recognized by the Medical Society of Virginia as the sole recipient of the Salute to Service Award for Advancing Patient Safety and Quality Improvement. He was also recognized as a 2015 "Top Doctor" by Washingtonian Magazine.